Wonder Valley
Community Action Guide
In 2016, the County embarked on a planning process to update the fourteen existing Community Plans and create over 30 new plans for approximately 80 unincorporated communities. The strategic system of community planning is called the Community Planning Continuum with a continuum of plan-types to provide planning tools and resources to match local conditions and needs. The plan-types are Detailed, Framework, Foundation and Fundamental.
Wonder Valley is a community within the Morongo Basin, east of Joshua Tree and Twentynine Palms. After homesteaders acquired land following the 1938 Small Tracts Act, hundreds to thousands of homesteader cabins were built in the area. Since then many homesteads have been abandoned and demolished. Today Wonder Valley has a sparse but diverse population of nature lovers, outdoor enthusiasts, desert rats, retirees and artists.
Strengths and Opportunities

Wonder Valley is a Fundamental community. An online survey was available for five months in early 2018. Approximately 80 surveys were completed by residents. The survey requested information about the community including Values, Aspirations, Strengths, Weaknesses, Opportunities and Threats, local organizations and local history, see "Community Identified Issues". The survey information was reviewed to create this Community Action Plan. The Community Action Guides are a framework of actions identified by the community and supports implementation of the actions by the community.

As part of the survey, participants defined the strengths of and opportunities for their community. The word cloud was created using the input provided during the Strengths, Opportunities, Values and Aspirations exercises. The word cloud quickly informs participants of key issues and focus areas that could be addressed in the plan. The more a word or phrase was articulated, the larger the word appears in the cloud.

Community Values

The Values are those shared assets, principles, standards, mores, and in the judgement of the community, what is important in the lives of its residents and businesses. A community's values are an important consideration in shaping its aspirations, focus and actions.

As a community, Wonder Valley values:

Rural Atmosphere. The large lots and space between properties give residents room to breathe. Wide open spaces allow residents to appreciate and maintain the solitary, laid-back lifestyle of this area.
Natural Desert Beauty. Residents value the beautiful sunrises and sunsets, the dark and starry night skies and the desert views and wildlife.
Community Spirit. Wonder Valley is a tight-knit community whose residents value self-reliance and neighborly support. The people have a respect for nature, freedom, privacy, and each other. Here, residents work together but also enjoy their independence and being left alone in solitude.

Community Profile

The community profile is a summary of the social, cultural, economic and historic dimensions of the Wonder Valley community. It is a gathering of objective data collected through an online survey and secondary sources meant to inform and help facilitate creation of the Community Action Guide. The profile highlights essential facets and "tells the story" of the Wonder Valley community.
The Aspirations Statement is a written narrative illustrating how the community desires to look and function once the Community Focus Statements and Action Statements are accomplished. This is a long term view of 10 to 20 years. The Aspirations Statement serves as a foundation for developing Community Focus Statements and Action Statements.
Better Communication and Services

The community offers family-oriented activities, community health services including mental health services, services for the disadvantaged, improved public transportation, a local fire station and locally based Sheriff's response.

Maintain the Rural Atmosphere

Wonder Valley provides residents with a rural lifestyle on large lots with dark night skies.
The Action Plans consists of:
Focus Statements, which provide general direction towards realizing the Community's aspirations and help organize the plan. (Identified in Workshop #2 and reviewed and finalized in Workshop #3)
Action Statements, which are measurable statements providing critical information on the program, initiative or project to complete. (Identified in Workshop #2 and reviewed and finalized in Workshop #3)
Action Plan Matrices, which provide general sets of action steps necessary to implement each action statement, identify those that would initiate and champion the action statement, provide a general timeline for implementation and identify resources for additional assistance. (Created to support and guide the Community's identified Focus and Action Statements)
FOCUS STATEMENTS
Expand each Focus Statement to see related Action Statements and download the Action Plan Matrices.
A. Improve the delivery of essential services to the community

B. Support opportunities for Wonder Valley to accommodate travelers and tourists of the Mojave Trails National Monument and Joshua Tree National Park

Action Statements

Identify local historic, artistic, or recreational areas that may interest travelers or tourists to stop and create brochures to leave in tourism locations throughout the Morongo Basin.

>>Download PDF Action Matrix

Develop a visitor's center with information about the history and natural environment of the area and market to tourists.

>>Download PDF Action Matrix

Advocate to the County Economic Development Agency to help attract local businesses to the area.

>>Download PDF Action Matrix

C. Create more local activities for Wonder Valley residents

Action Statements

Create an online and written survey for local residents to list the types of activities they would like to participate in.

>>Download PDF Action Matrix

Create a list of local residents who are willing to share their expertise with others.

>>Download PDF Action Matrix

Compare the survey results and the local expertise to identify opportunities to create local groups (e.g., arts, walking, games, reading, etc.) and educational opportunities (e.g., painting, stargazing, resume writing, or children's programs).

>>Download PDF Action Matrix
Download the Community Action Guide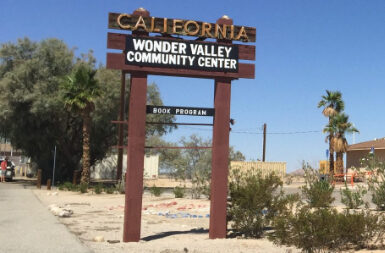 Download the Community Action Guide in PDF format.
DOWNLOAD PDF CAG NOW