Daggett
Community Action Guide
In 2017, the community embarked on a planning process to develop a community plan. A public workshop was held on January 24, 2017. This workshop was a combination of two workshops, the first, postponed due to local scheduling conflicts. This workshop, open to any Daggett resident, business, or property owner addressed strengths and weaknesses of the community, the community's values, and what Daggett aspires to be in the future. Workshop participants brainstormed areas of focus and actions to help the community move forward to achieve its aspirations.

This Community Action Guide is a framework of actions identified by the community and supports implementation of the actions by the community.
Daggett is a community built on a rich history that it is working hard to preserve. The community strives to maintain a safe community and improve its overall cleanliness and beauty. It is located on Route 66 and well-positioned to take advantage of local and Route 66 tourism. The community sees opportunity in preserving and celebrating its historical sites and museum, increasing local and regional events to draw visitors to Daggett, and continue to improve its aesthetic appeal through property cleanup and improving and preserving deteriorating structures.
Strengths and Opportunities

Community workshops were conducted in each community as part of the engagement process. In addition, input was gathered through the Countywide Plan website. As part of the process, participants defined the strengths of and opportunities for their community. The word cloud was created using the input provided during the Strengths, Opportunities, Values and Aspirations exercises and served as part of the base information utilized to develop the Focus and Action Statements of the Community Action Guide. The word cloud quickly informed participants of key issues and focus areas that could be addressed in the guide. The more a word or phrase was articulated, the larger the word appears in the cloud. The full results of the strengths, weaknesses, opportunities and threats gathered as a part of the engagement process is found in the Community Profile.

Community Values

The Values are those shared assets, principles, standards, mores, and in the judgment of the community, what is important in the lives of its residents and businesses. A community's values are an important consideration in shaping its aspirations, focus and actions.

As a community we value:

Community Pride and History. The community takes pride in its people and its heritage. Daggett values its heritage and works to remember, preserve and document its historical roots as it looks to the future.
Quality Education. The community values the local school system and the quality education that it provides its youth.
Hardworking Residents. The community values its hard-working and down to earth residents. They value each other and the contributions that they each make to their community.
Military Heritage. Daggett understands its relationship with the military and values the jobs and service that the military provides to the community.

Community Profile

The community profile is a summary of the social, cultural, economic, and historic dimensions of the community. It is a gathering of objective data collected through secondary sources meant to inform and help facilitate discussion during the community meetings. The profile, together with future studies and information gathered from residents during the community meetings, will highlight essential facets and "tell the story" of the Daggett Community.
The Aspirations Statement is a written narrative illustrating how the community desired look and function once the Community Focus Statements and Action Statements are accomplished. This is a long term view of 10 to 20 years. The Aspirations Statement serves as a foundation for developing Community Focus Statements and Action Statements.
A Clean and Close-knit Community

As a community we have improved the beauty of Daggett through regular clean-up days and improved infrastructure. We provide free trash pick-up days where community members volunteer to clean up litter, illegal dumping and assist neighbors with their individual properties. We have expanded our local community festivals and celebrations in an effort to bring our neighbors and families together for fun activities. Our new library now serves as a center within the community providing our youth and citizens with access to vital learning materials and information. The library also hosts a new computer lab which helps connect our community with the outside world and provide vital internet access.

An Economy Built on our Historic Past

Preserving and celebrating the history of Daggett was central to our community's growth efforts. Our re-invigorated Daggett Historical Museum serves as a local tourist destination, provides education about Daggett's past, and information to local tourists to learn about Daggett's rich heritage and local sites. Our new tourism map gives visitors a self-guided tour of a well-inventoried collection of historical sites and natural features. We have organized a new Daggett Festival in conjunction with local and regional partners that celebrates our history and provides recreation, programs and shows to attract a wide audience to come and experience Daggett on an annual basis. The Stone Motels façade was preserved, restored and now serves as a restaurant and stopping point for Daggett, Calico and Route 66 tourists. The increased tourism and visitors has led to a resurgence in local retail to benefit visitors and citizens alike.
The Action Plans consists of:
Focus Statements, which provide general direction towards realizing the Community's aspirations and help organize the plan. (Identified in Workshop #2 and reviewed and finalized in Workshop #3)
Action Statements, which are measurable statements providing critical information on the program, initiative or project to complete. (Identified in Workshop #2 and reviewed and finalized in Workshop #3)
Action Plan Matrices, which provide general sets of action steps necessary to implement each action statement, identify those that would initiate and champion the action statement, provide a general timeline for implementation and identify resources for additional assistance. (Created to support and guide the Community's identified Focus and Action Statements)
FOCUS STATEMENTS
Expand each Focus Statement to see related Action Statements and download the Action Plan Matrices.
A. Clean up Dagget

B. Preserve and protect historic sites

C. Provide more community activities
Download the Community Action Guide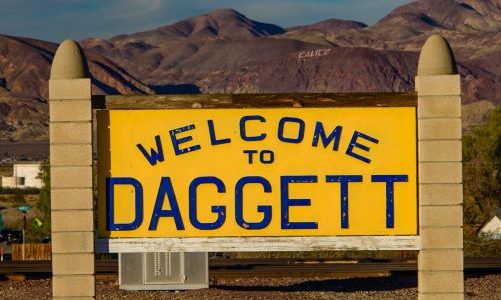 Download the Community Action Guide in PDF format.
DOWNLOAD PDF CAG NOW